Date:
18 – 21 June 2019 (Tue – Fri)
Time:
8:30am to 5:30pm
Venue:
Lecture Theatre, 7/F, Block H, Princess Margaret Hospital, Hong Kong
Theme:
Specific Infectious Diseases Related Knowledge
Co-organisers:
Hospital Authority Infectious Disease Centre, Princess Margaret Hospital
Infectious Disease Control Training Centre, Hospital Authority
Overseas Speakers:
Medical: Prof Myron LEVIN (USA) / Dr Anton POZNIAK (UK)
Paediatric: Dr Philip BRITTON (Australia) / Prof Yhu-Chering HUANG (Taiwan) / Prof Nigel KLEIN (UK)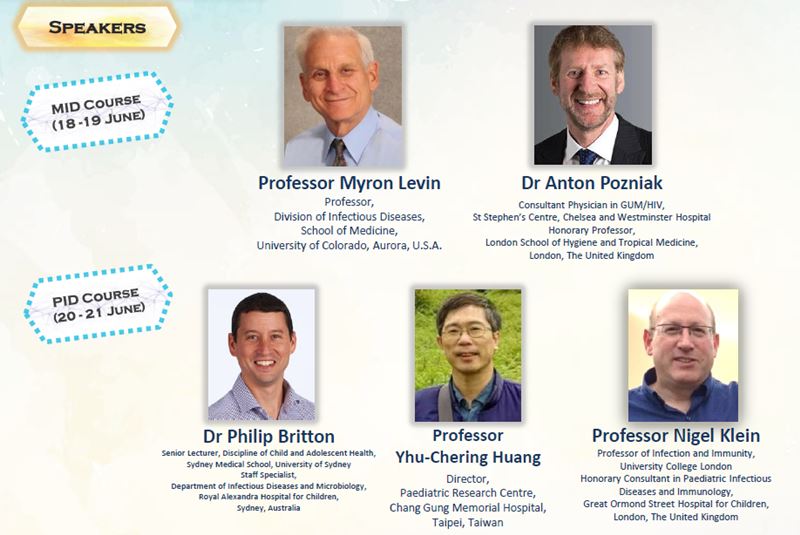 Target Participants:
Doctors of related specialties including Infectious Disease, Microbiology, A&E, Internal Medicine, Paediatrics, Community Medicine and Family Medicine
Infection Control Officers and/or Infection Control Nurses
All ranks of healthcare professionals including doctors, nurses, microbiologists, allied health staff involved in the management of infectious disease and immunology
Registration Fee:
Free of Charge
CME/CNE/CPD:
It has been submitted and waiting for approval.
Registration Deadline:
11 June 2019 (Tue)
Please refer to the
Poster
and
Rundown
for more information.
Early registration is recommended as seats are limited and will be allocated on first-come, first-served basis. To reserve a seat, please download the
Registration Form
and return it by email / post / fax as indicated on the form. For HA staff, please register via the
Intranet Online Registration System
. All registrations will be automatically confirmed unless you hear from us otherwise.
Enquiries:
Email: haidctraining@ha.org.hk
Phone: (852) 2990-2869 / (852) 2990-2876